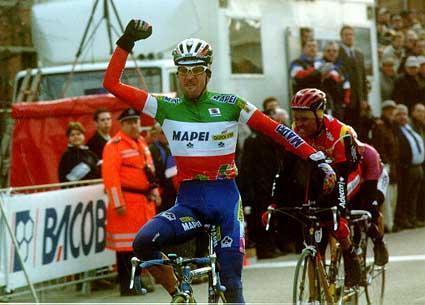 The plan was to ride the trainer and watch 08, but I couldn't find it. There was however the trusty video tape of 2001. So worth hooking up the VCR to relive this one.
I think this is the year that made me love this race and the classics in general. I knew just enough to be familiar, but not enough to be jaded.
This race had it all going- the weather, the drama of the predominantly Italian Mapei vs the predominantly Belgian Domo, and the winner Michele Bartoli.
The Belgian colored Lotto GTs. I would buy one of these in a heartbeat.
Lotto riding mainly in hairnet helmets or no helmets(Tchimil). Frank Hoj too...
Hairnets in the 21st century?
It was amazing that Tchmill,PVP, and Domo missed the winning break.
Here are some of my other random highlights from rewatching the race
-The bikes. Box section rims on everyone with mainly round tube bikes. Battavus had one of the most angular designs. Ridley,Time, and Look were all plain jane round tubes.
-The Bonjour team kit holds up while the BankGiroLoterij-Batavus dud not.
-Fassa Bortola had both Basso and Cancellara in the race.
-Arvis Piziks. First rider whose name just made me laugh. Being the Latvian national champ, he always got to rock some cool purplish kit.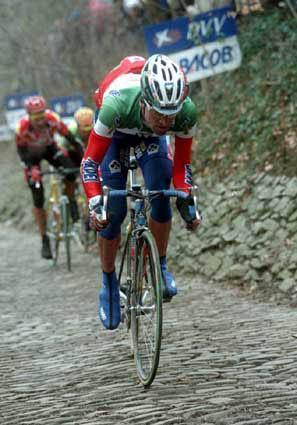 But really Bartoli in the Italian national champ Mapei kit is what makes the race.
A lot of dudes fan out on VDB, but I will always be a Bartoli fan boy. His style and racing was the best. Attacking. In the drops. The Cat. Bartoli winning is like icing on the cake.
The 2010 Het Volk kicks off in about 12 hours. Haussler, Pozzatto, Chavanel, Ballan, and Gilbert are my picks. Dark horses and sentimental picks would include Terpstra, Langeveld, Vansummeren, O'grady or Maaskant. BMC are bringing all their guns.
Can't wait.