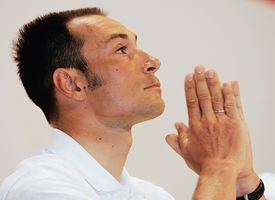 Right of the bat -don't get it twisted. I have the utmost respect for Eric Zabel. He races year round, did the right thing by his friend Altag, and is fast as fuck. I am psyched to have anything in common with him, I am just a little bummed it is a tragic euro hair style. Zabel since arriving at Milram has been rocking a bizzaro receding spiky flat top. Recently my hair has begun to resemble this. Especially after I take my helmet off. This leaves me with a few choices.
O'Grady it
.
Karpets it
. or I guess
Wiggins it
. Realistically O'Grady is my only real choice-I need to cut my hair more often-maybe treat hair cuts like interval workouts or leg shaving. Thank god he shares Zabel's good qualities-races year round, stand up guy, fast, etc. Of all the tragic euro hairstyles, the Zabel may not be that bad, but when you are blessed with hair everywhere but on your head, it just seems like another hour with the razor blade. Maybe I can half step and rock the Bettini and call it quits! Ah yes, the
Bettini
why didn't I think of that ( even if it is just a midpoint between the OGrady and the Zabel).
This approach definitely beats the hairline doping that Johan is guilty of!
Then
.
Now
. You decide. More definitive than Barry Bond's hat size? You decide.