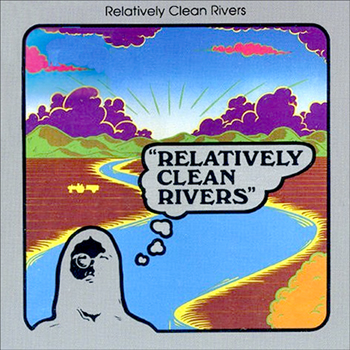 Pavement stretched out into some territory that was pretty much the Grateful Dead's and they did a lot to make that country-pysch rock thing palatable to kids born in the 70s.
Never been able to get down with the Dead-and I am clear on how many bands I do like are clearly in the same vein. Regardless can't do it. Relatively Clean Rivers are a mid 70s band who get genre-checked as acid-folk, country-rock, pastoral, and most notably my new favorite category rural rocker!
Got the frowned upon Radioactive Records CD.(label sucks cause they don't give money to the bands/songwriters). 9 tracks that do pretty good to live up to and occasionally defy genre expectations and stereotypes. Make no mistake this is some mandatory organic sandals and composting everything commune rock, but it's mid 70s time frame has some synth type stuff sneaking around. One thing I like is no song sprawls on for more than 6 minutes.
I think the mids 70s recording time frame also gives it a post-manson family summer of love failure vibe that takes the edge off what could be unbearable flower power positivism. There is also a few jabs at some Far-Eastern sounds.
This is what I wished a lot of the krsna related records I dug up sounded like.
I have never understood the people that post audio files on youtube with static pictures of an album cover or spinning record,
but this is
the 2nd track from the RCR record.