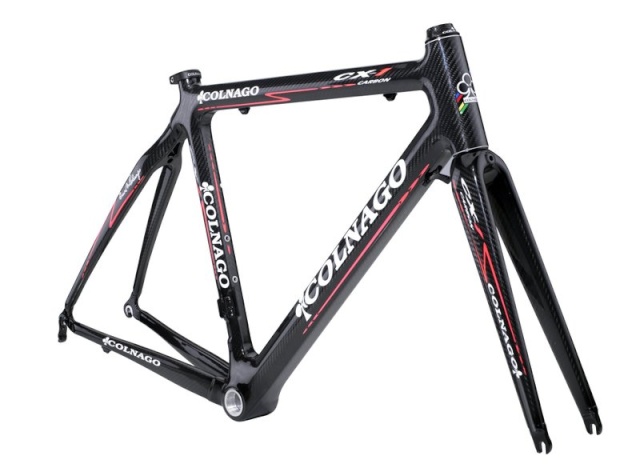 Colnago
must have been intimidated with all of Campy's new acronyms because with their new CX-1 frame they have introduced some real unique marketing double speak.
The frame is a "modular monocoque". ????? You can clearly see lugs
behind the BB
and at the
seat tube junction
that look like standard Colnago design. I guess the front end is one-piece with the seat and chain stays bonded on. Why not say monocoque front triangle or something simple? Why "modular monocoque"? Never mind that "modular" makes me think of some hideous modular home on the
back of a flat bed
-not the Italian image of speed they are hunting for.
Colnago seem to be struggling to stay releveant with all the other high end carbon bikes coming out and gobbling up market share, but they should stick to making unreal frames, not reinventing the English language and making frames that seem to mimic other carbon frame makers that are getting more attention.
I wanted a C-40 couldn't afford one, wanted a C-50 couldn't afford one. Started to get nervous when they introduced the HP chain stays and the Extreme Power models, but no worries-still couldn't afford one. Then came the "affordable" Colnago CLX and the whole "can it be a Colnago if it is built in Taiwan debate". No comment on that subject. So I guess it is a moot point whether I like the new design since it is unlikely you will see me on a CX-1 with full Super Record and Ultra Bora wheels anytime soon, but still don't make me insane at 6:00AM with your marketing double-speak.