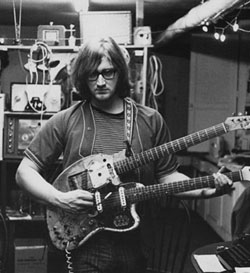 "rays of sun can melt your head". So sang Mike Yonkers who based on this CD spent a fair amount of time in the sun. Sub Pop reissued/released this back in 2003. Microminature Love originally got unleashed on the world in 68 by Sire records. Yonkers bridges garage rock influences into a 70s pre or proto punk/ post -psych type sound. Kind of a mid paced groove somewhere between the 13th Floor Elevators and the Stooges.(not as trippy as the 1st, not as heavy as the 2nd) You have to wait until track 3 for Yonkers to blast off into some Spaceman 3 worthy feedback blasts that fade ou the song. Sometimes brings to mind Sonic Youth. Maybe even Simply Saucer if I felt like name checking another lost wierdo ensemble. Not hard to understand why this fell through the cracks. "Puppeting" works a basic blues stomp into the ground with some killer fuzz. Demo material is also strong "My House" has a nice Hendrix groove to it. Overall this is a pretty amazing record, grabbing from a lot of influences it creates a sound that is still compelling 29 years later.
This disc contains the original 7 tracks from the LP, plus six bonus tracks. Netting you 13 slabs of outsider skronk and roll. He still
lives and performs
in Minneapolis.
You can check a couple tunes on the
SubPop page
Thanks to devoted WWDIS reader Ur Trommler for the tip on this one.