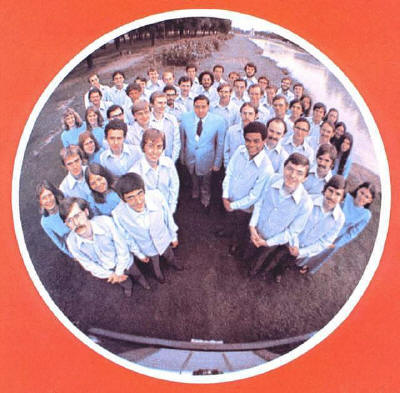 In my search for Krishna rock records I stumbled on this Blue Aquarius LP which is a real odd ball on the Stax Gospel Truth subsidiary(GTS-2725). Calling itself "the new sound of free music". Clearly a peaceful anti-Vietnam 70s vibe on this. Based on the label and the graphics, I expected California Hippies, but I got a large British group in blue suits dedicated to
Guru Maharaji Ji
.
Rolling Stone
was apparently hip to the Guru and this article is worth checking out.
I think
Dusty Groove
got the review right, "The sound of the best tracks is almost in a Hair-type mode -- kind of groovy, with large chorus vocals, and a slight bit of funk in the arrangements. The album sports two great instrumental funky tunes called "Alive & Well" and "Foxfire". I would add a Bee-Gees/G.Harrison vibe as well. "Rock Me Maharaj Ji" is an odd lyric. The song "Arti" that closes side one sounds ripe for a late period Elvis to come chiming in over. "How many lifetimes" opens side two with a soft rock nod to "the red and the black" by BOC(which came out around 1973 so it's possible). Side 2 was apparently recorded live at the Hammersmith Odeon. Dusty Groove is right the 2 instrumentals on side 2 are good. "Foxfire" has a good feedbacky guitar solo. "Alive and Well" is funkier and lets the organ player get some and also lets rip an ill Synthesiser solo. A kind of Afro-Funk groove to it all. "Satguru" brings it home with a HAIR meets Chicago type groove. The "live" side 2 is much better than side one and the 2 instrumentals are head and shoulders above the soft rock guru worship laid out elsewhere on the LP.
A quick google search showed that this was a
very musical guru
with a connection to Geroge Harrison. Hopefully I can resist the urge to track all these down.